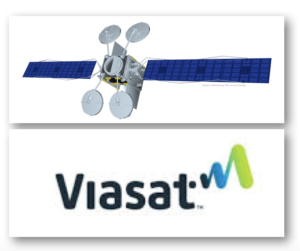 Dec, 5 – Viasat Inc. announced today the ViaSat-2 satellite has successfully arrived in geostationary orbit at 69.9° west longitude, and has transitioned into orbit normal mode (earth pointing) with its reflector and radiator deployments now complete. The Company also confirmed the ViaSat-2 satellite has commenced in-orbit testing, including the key milestone of the first end-to-end system test, with the ViaSat-2 satellite transmitting and receiving data to and from the new Viasat ground segment.
The $600 million satellite will have a 300 Gbit/s throughput, up from ViaSat-1's 140 Gbit/s in 2011. It will use Ka-band frequencies.
ViaSat-2 was launched by Arianespace from Kourou, French Guiana, on June 1, 2017. The ViaSat-2 satellite employed a hybrid propulsion approach, using both traditional chemical as well as electric propulsion. The chemical propulsion subsystem was responsible for initial orbit raising and performed according to plan, setting the stage for the follow-on ascent to geostationary orbit using electric propulsion, which was completed last week. Viasat spacecraft partner, Boeing Satellite Systems International, controlled and monitored ViaSat-2 throughout the orbit raising process, flying the satellite from its Mission Control Center in El Segundo, California.
Following completion of the in-orbit tests, the ViaSat-2 satellite is scheduled to enter commercial service in February 2018, where it will enable the delivery of advanced residential, enterprise, government and in-flight internet services.
Successful Data Transmission from Space
Within days of reaching its geostationary orbit, the Viasat team was successfully transmitting data to and from the ViaSat-2 satellite, as well as streaming content providing an early demonstration of the satellite's power and flexibility. Watch the first few moments of contact here.
"This is a great achievement for the Viasat team, our customers and our partners," said Mark Dankberg, chairman and CEO, Viasat. "The ViaSat-2 system is the culmination of years of hard work and commitment to bringing a satellite platform to market that can deliver truly high-speed, high-quality broadband to many more people, and with a much greater geographic reach. We're another step closer to bringing the ViaSat-2 satellite into service."
Source: ViaSat, Inc.